Faces Not Forgotten
Formerly The Faces Project
Facebook: The Faces Project St. Louis, MO
Artist Statement
Christine Ilewski
"Shootings" take place daily in the US. We seem to accept them as a general public. Certainly we're outraged when we hear the victims are children and young adults under 21. Then time passes. Can we remember the individual names of those children? Can we recall their faces?
I couldn't. And then I suffered a personal loss to gun violence, A dear friend, Fr. Lorenzo Rosebaugh, OMI, was gunned down. His life had been devoted to the resistance of violence and injustice. He had just officiated at the funerals of two teen victims of gun violence. Over thirty years ago, I had lost my father to suicide by gun. All of my planned art work at that time came to a halt.
I began the "Faces Project," painting the portraits of children, 20 and under, who have died as the result of gun violence. An artist friend, Jane Linders, got us organized as I was becoming overwhelmed by the numbers of local victims. Other passionate artists joined us. We formed a board and thanks in part to receiving the 2013 Critical Mass Creative Stimulus grant and the devotion of these artists, we continue to put a Face to the youngest victims of gun violence.
Bill Burton, a young African American artist, gave us a new logo to go with a new name "Faces Not Forgotten", which speaks more directly to the wishes of the families: that their children not be forgotten.
We paint a portrait, the "Face" of each child, which is then donated to the family. A JPEG image of the original portrait is graphically superimposed over an image of a vintage handkerchief by Andrew Dobson and printed on 16"x20" canvas panels with grommets in the corners to create the "Faces". These are tied together with black ribbon in sets of 9, 8 portraits for the 8 children that die each day from gun violence and 1 logo, to create our Faces Not Forgotten quilts.
In St. Louis, we tie Ribbons of Hope from the Ferguson movement to the top. We work with the St. Louis Crime Victim's Advocacy (CVA) center to respectfully contact victims' families for their permission to use these portraits in the fight against gun violence. We have exhibited them at The Vaughn Cultural Center, the Central Reform Congregation, the Foundry, the Univ. of MO-STL , Blackburn College, Soulard Art Market, the Maryland Heights Community Center, The Regional Arts Center, Christ Church Catherdral and have numerous future exhibits planned.
In October, the Faces Not Forgotten project was exhibited at the Brady National Summit in Washington, DC. We have since partnered with The Brady Campaign and the Gun Violence Prevention Movement to do portraits across the country of young gun violence victims. We hope to return to DC with 100 plus Faces Not Forgotten quilts, showing the country the very young Faces of gun violence.
Jessica Meyers, director of CVA, said that one thing families say over and over is that they are afraid that their child will be forgotten. The Faces Not Forgotten Project attempts to keep their memory alive and to offer some small comfort and support to the families.
These children are not just numbers or statistics. Each one of them was a life ended. Each one has a Face.
For more information or to make a donation: christine.ilewski@gmail.com
Link to a piece which was produced by KSDK Channel 5, St. Louis for the opening of the Faces Not Forgotten exhibit at the Vaughn Cultural Center of the Urban League of Metropolitan St. Louis.
Support Faces Not Forgotten
| | |
| --- | --- |
| | Donations can be made via Paypal directly to Faces Not Forgotten. Your support is greatly appreciated and allows us to continue our mission. |
Are you a survivor of gun violence or have you lost a familiy member to gun violence?
| | |
| --- | --- |
| | This PDF document contains our release form and information about Faces Not Forgotten. Please download the PDF file (right click on the image of the flyer or the text link above and select "save linked file") and return it to: |
Frequently Asked Questions for Artists
What is the project all about?
The Faces project was started by artist, Christine Ilewski. She began painting portraits of children who have died from victims of gun violence in memory of Lorenzo Rosebaugh. It is her hope that by putting a face to these victims, we can raise awareness about gun violence in the USA.
How can I help?
You will be mailed a photo of a child who has died as a result of gun violence and will be asked to make a representational portraits of that child. The portrait ( a representational head and shoulders, size 9" x 11") goes to the family as a gift. Send a .jpg file of your portrait for documentation and three zerox copies of your original portrait to Christine to be made into a Face on a handkerchief. These will join our collection of "Faces" for traveling exhibits.
Can I use any medium?
The portrait given to the family should be two dimensional, representational, head and shoulders, 8.5"x11" in the media of your choice (watercolor, acrylic, oil, pencil, pastel)
Can I keep the portrait?
No. You will be donating your original portrait to the victim's family. The "copy" will become a Face on a Handkerchief and will join the traveling exhibition. You will be given credit for this portrait and listed as one of the exhibiting artists.
How long can I keep the photo and work on the portrait?
We ask that you complete the portrait within one month from receiving the photo of the victim.
Where do I send a high resolution JPEG of the finished artwork?
You will be sending a high resolution JPEG of the finished portrait to:
Christine Ilewski
director@facesnotforgotten.com
Will I be reimbursed for paint, canvas, art supplies and postage cost?
Sorry, but we currently don't have the funding for art supplies and postage costs, but we're working on getting funding. We appreciate you taking the time, money and talent to do the portrait for the family and adding to the traveling FACES project. Just know that you are doing something to relieve the suffering of the victim's family as well as helping to raise gun violence awareness.
What happens to the portrait/face?
We will send your original portrait to the victim's family. Then your portrait interpretation Face may be exhibited in a gallery as we intend to take this project nationally. We are currently expanding the project to other cities.
Do I have to frame the portrait?
No you are not required to frame your portrait, unless you want to. That would be nice. I'm sure the victim's family would appreciate it.
Can I meet the victim's family?
Possibly. We plan on having more exhibits of The Faces Project. We invite the artist and the victim's families to the openings. Please include a business card or your contact information along with your portrait. We will pass your contact information on the victim's family if you wish.
I know someone who's child was a victim of gun violence. Who do I contact to have their portrait done?
Please have the victim's family contact Christine Ilewski at
christine.ilewski@gmail.com
or Jane Linders at
janelinders@sbcglobal.net
. We'll match them up with an artist. We would love it if you helped spread the word. All families will be asked to sign a release form (found here in
.RTF
and
.TXT
format) that allows us to publicly display the images of their child. No commercial profit will be made from the display. We are asking that all children be under the age of 20 and that the families send a CLEAR photo of their loved one. Blurry images will not be accepted.
Can I sell my portrait?
No. You will be donating your portrait to the victims family. We are strictly enforcing that no profit is to be made from the sale of these portraits.
Can I post my portrait on social media?
Yes. Feel free to tweet, facebook, etc the portrait you made. This will help increase public awareness regarding gun violence in this country.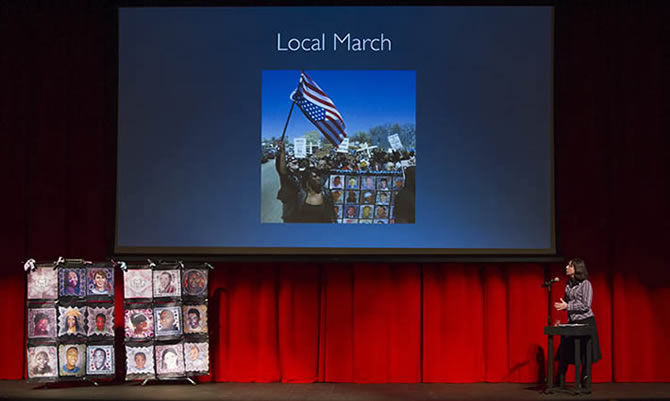 Donate
Contact
Christine Ilewski, founder of the Faces Project
www.ilewski.com
christine.ilewski@gmail.com
Jane Linders, St. Louis Director of the Faces Project
http://www.freewebs.com/janelinders
http://www.etsy.com/shop/jalinde
janelinders@sbcglobal.net